Thank you for visiting my website!
Here you will find information of interest to Jewelers and Jewelry lovers alike. My career spanned many parts of the jewelry trade from sales, to managment, and it ended up being long hours as a self employed bench jeweler. I hope to pass on many of the things I learned to you, my friends.
My goal is for this website to become a resource for those interested in the art of beautiful jewelry: not just the way it looks but the way it is made also. As more information is added you will find more links. Thanks for visiting and please check back often!
I have recently decided to make a stamp to identify all of my jewelry items. From this point forward, they will be stamped with the following maker's mark: "G⋀L".
The latest gold, silver, platinum, and palladium prices.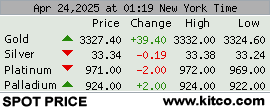 TPILB
*** This website features a Blank Page according to the recommendations of the TPILB-Project.